Sustainable Development Coordinator, Gemmer Crozier
Gemmer Crozier, Brother UK's Sustainable Development Coordinator and apprenticeship ambassador, is a day from beginning her maternity leave when we speak. Giving birth to her first child in the midst of a pandemic does not faze her. It's difficult to imagine what might.
A Tameside girl, who began her career with Brother UK five years ago with a four-minute walk from her home to its headquarters, she has grown from the company's first apprentice in 20 years to become an invaluable spokesperson for its all-encompassing sustainability agenda.
Crozier is clear on the breadth of Brother UK's commitment to sustainability: for itself, its commercial partners and its communities. It is an agenda rooted in a commitment to environmentally-sound practices but which has increased in scope to include areas as diverse as poverty and hunger, peace and justice. Brother UK is the Japanese company's only local office to have based its agenda on all 17 of the United Nations' Sustainable Development Goals, Crozier says. Significantly, her personal beliefs are closely aligned.
"From day one, I wanted to do something where I feel that I've made an impact and added value. We all have days where we think, 'Oh, work today' but when I come out of a session sharing our sustainable practices, I have a buzz: 'Look what we are achieving!' Naturally, the things I shout about are true to me too. You have to buy in, and that defines the right person for the job. The passion comes from when you believe in what you're communicating. When you do, you can give so much more," she says.
"I'm naturally interested in areas like working for a greener earth and helping to end poverty in our communities. These concerns run through Brother's DNA, but I guess they run through mine as well. It's just who I am and why I'm so passionate about the role. I don't feel like I'm doing a job. I want to make a difference."
There is more. Sustainability is not only desirable but transformative. Companies can raise their performance by embracing sustainable practices in every aspect of their business, from providing strong working opportunities that drive economic growth in their communities to selecting green energy providers for a supply of clean and affordable energy.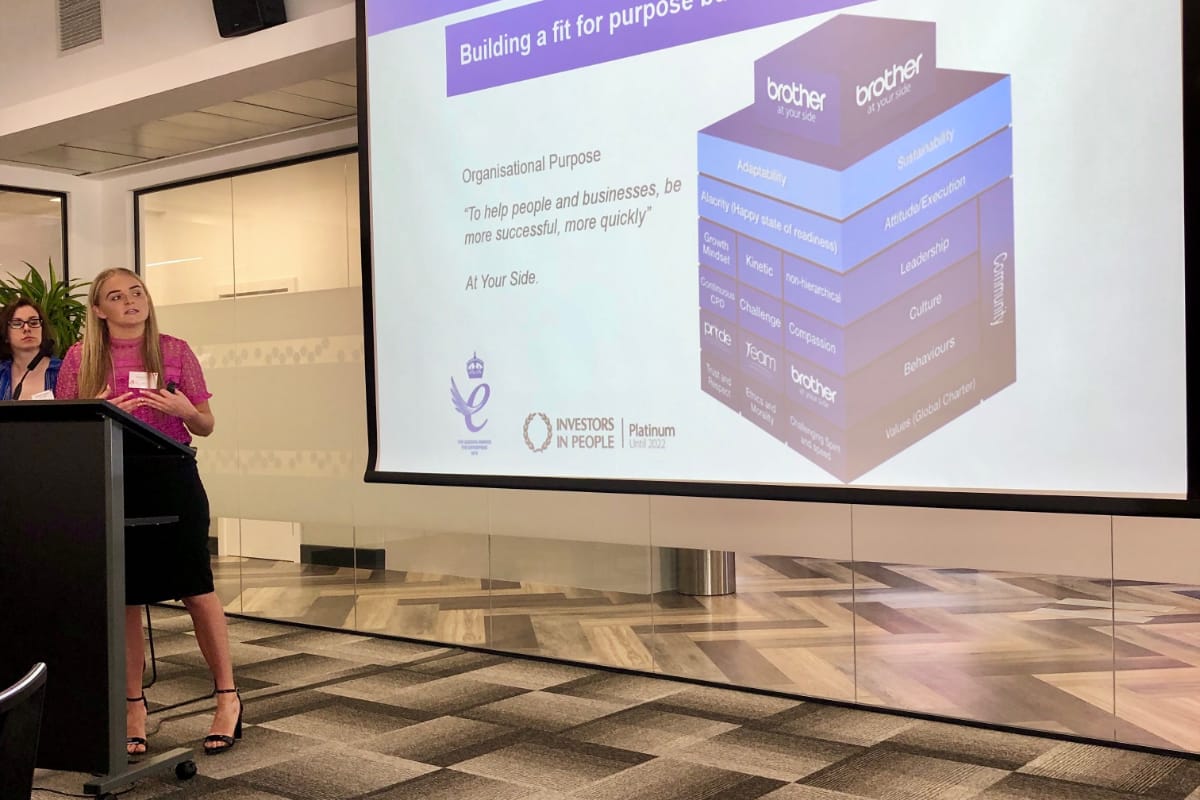 Sustainability: easy as ABCD
There are many ways in which sustainability can transform a business. The United Nations identifies 17 Sustainable Development Goals and, as mentioned, Brother UK is the Japanese company's only local office to have interpreted all of them as a basis for its activities. Crozier's role as Sustainable Development Coordinator is to facilitate the delivery of each. It is a serious undertaking.
At first glance, it can be hard to see how a technology company might contribute to global goals like ending poverty and hunger. Brother UK's answer has been to think local. Long-term commitments to charity groups in its Tameside neighbourhood ensure that the most vulnerable receive the support the company offers.
---
"By developing products that improve cost efficiency, security, productivity and workflow, Brother UK empowers the sustainable development of its consumers and clients for its managed print services."
---
Helping to meet the Tameside community's most basic needs is part of a wider strategy to build sustainable communities and cities. Brother UK offers support for its neighbours in four key areas: Enterprise, Education, Elderly and the Arts. Crozier and her colleagues facilitate its delivery by adopting a strategic approach: what Brother UK terms Asset Based Community Development (ABCD).
Other issues lie closer to home for the company even than its neighbours. Health and wellbeing are a natural concern for every member of society, including Brother UK's staff. Events offering lifestyle advice to colleagues are a practical solution and indicative of the company's commitment. With mental health now a common concern at every level of society, Brother UK has responded by training 16 mental health first aiders.
Its sustainable development goals embrace a wider remit when they are applied further than its premises and neighbourhood. Several of the 17 categories involve - and benefit - other businesses. The clearest example is its commitment to the sustainable development of industry, innovation and infrastructure. By developing products that improve cost efficiency, security, productivity and workflow, Brother UK empowers the sustainable development of its consumers and clients for its managed print services.
Suppliers represent a critical piece in Brother UK's sustainability jigsaw. A shared commitment to raising environmental and social awareness has contributed to its attainment of significant targets, including zero waste to landfill. Brother UK's continuing status as the only North West business to meet the industry-leading Valpak standard - a certification it has held for more than nine years - is a clear example of its commitment to responsible consumption and production.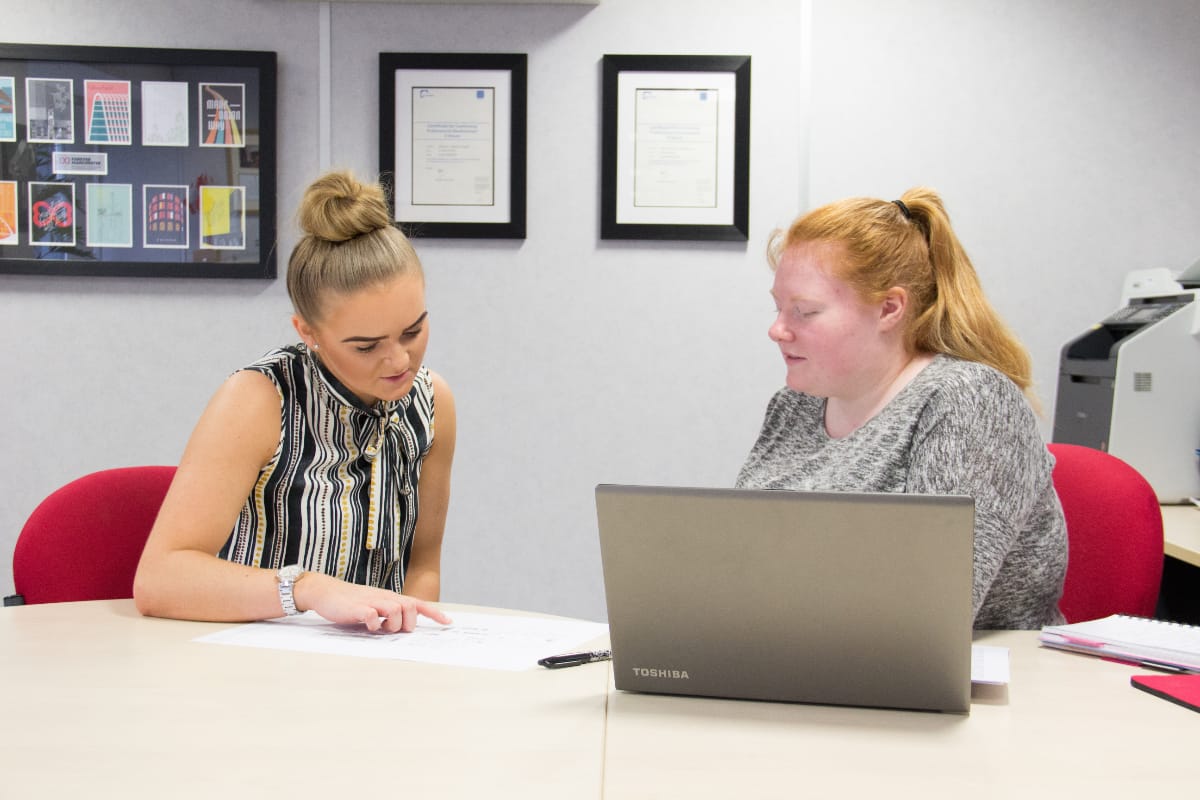 Beyond CSR
Crozier distinguishes between Corporate Social Responsibility (CSR) and sustainability. While both are rooted in a company's willingness to do the right thing, sustainability embraces a transformative aspect that reaches from the board room to the water cooler; from decisions that affect the company's strategic development to daily practices and protocols.
There is a subtler distinction. For companies with no great commitment to their people, customers and communities, CSR activities can seem little more than an exercise in box-ticking. Embracing sustainability, by contrast, demands buy-in at every level of the business. Crozier, who had led Brother UK's community engagement activities before becoming its Sustainable Development Coordinator, describes the difference in emphasis well.
"I loved the [community engagement] work. It was such a rewarding role, but when people asked me what I did, it was so hard to articulate. I'd say: 'Well, it's called CSR, but we kind of do everything.' I came to realise that it was about so much more than community engagement. That's when the bigger picture emerged: it was sustainability," she explains.
"Sustainability is in our DNA. It runs through everything in our business. Because I had a natural passion for CSR, it just fitted in. My line manager said: 'Gemmer, you're now our sustainability champion.' I was like: 'I'm grabbing this with both hands, and you're not taking it from me!' I just ran with it, because it was an area I was already familiar with. Embracing sustainability just meant working at a higher level."
A shift in outside perspectives mirrors Crozier's personal enlightenment. Research from a marketing agency revealed that Brother UK was not identified externally as pursuing a sustainable agenda. For a business with two Queen's Awards and an Investors In People Platinum Award, this was a powerful revelation and proof that even best practice can be taken for granted by the people who practice it.
"We'd embedded sustainable practices in the business for years. We'd seen them as the norm and hadn't wanted to be seen as boasting about our accreditations. Our focus had been 'environmental, charity, community' and nothing else, so we had to re-educate our colleagues to understand what sustainability meant to us in everything we do: as a business, as a brand, and as our future."
An alternative conversation
Brother UK's commitment to sustainable practices is derived from the parent company's Global Charter: evidence that an agenda for fairness, justice, growth and responsibility is prioritised at its highest level. It says much, however, for the enthusiasm with which they have been adopted in Manchester that freedom granted in interpreting the charter has been exercised in increasing the commitment to sustainability.
Crozier enthusiastically describes a series of diagrams that illustrate Brother UK's protocols which range from the global brand promise 'At your side' to acronyms like PRIDE ("Personal Responsibility In Delivering Excellence"). Her passion becomes still more evident when she explains the significance of the company's sustainable agenda to its customers: that Brother UK's partners are, effectively, demanding it.
---
"Thankfully, customers realise we are a company who practice sustainability not to tick a box but because it's the right thing to do."
---
"We're finding that 40 per cent of a tender for our managed print services (MPS) is weighted towards sustainable practices. Customers want to discuss it. They're interested. Thankfully, customers realise we are a company who practice sustainability not to tick a box but because it's the right thing to do," she says.
"It's wonderful that we pursue sustainable practices, but if we didn't have our customers and communities, there's no way that we could. When we visit to share best practice, we find that customers, new and existing, open the door."
Naturally, an open door is an advantage to any business. Crozier speaks frankly of the "alternative conversation" that a commitment to sustainable practice allows Brother UK to hold with potential customers. Typically, she will be accompanied on visits to discuss business transformation by a member of the sales team, all of whom are accredited in ethical selling by the Association of Professional Sales.
"I had a call recently from a reseller who said: 'We hear so much about your sustainable practices, and we don't have any. Can you help us step in the right direction to create a sustainable focus?' If no business comes at that moment in time, that's fine. We're finding that if we share our sustainable practices, we are seen as a valuable partner for the future," she says.
Inspiring the future workforce
Crozier's enthusiasm is palpable. Brother UK's partners are not the only audience to be inspired by her relentless drive for improvement, however. As the company's apprenticeship ambassador, she shares the significant benefits of her experience with young people now in the difficult position she had occupied before finding Brother UK.
Crozier is still only 23 and closer in age to the young people Brother UK hopes to recruit as apprentices than the members of its leadership team. Recognising the value of relatability, Phil Jones MBE, the company's managing director, invited Crozier to address students at a local school to which he had been invited to share his own journey. Her talk that day began a new chapter in her development story.
---
"It all started with a simple talk from me to students at a local school. Now when I go back it's to deliver the mentoring and coaching programmes we've built with four years of hard work."
---
"Phil invited me to join him. I thought it would be interesting to listen and to learn about presenting to young people. I didn't think for one moment that I would be the one stood up discussing my journey so far, but, my goodness, what a reaction," she says, still surprised by the strength of her impact.
"I was just honest. I told them I'd had average GCSE results and had gone to college to further my education without knowing what I wanted to do when I finished. I admitted that I still wasn't entirely sure, but was determined to carve out my own role. The amount of questions that followed was eye-opening. I realised that 12 to 18-months earlier, I'd been in their position."
Recognising her impact, she accepted a subsequent invitation from the Apprenticeship Academy, Brother UK's training provider, to become a member of a growing apprentice ambassador network. The Greater Manchester Learning Provider Network broadened her knowledge of the apprenticeship scheme's technical requirements. She hasn't looked back - and neither has Brother UK.
"It all started with a simple talk from me to students at a local school. Now when I go back it's to deliver the mentoring and coaching programmes we've built with four years of hard work. They help us to give back to our local community with sustainable education programmes. We use them to build networks and identify talent. Now, when we have an apprenticeship opportunity, we have a massive cohort of individuals we can contact."
A family atmosphere
For adults lucky enough to have found their calling, it can be difficult to recall the challenge of embarking on a rewarding career. The announcement of a lunchtime apprenticeship seminar during a college assembly changed the course of Crozier's life by placing her on a pathway to Brother UK.
She jokes that the path led only as far as the trading estate next to her home, but this proves only how closely entwined her career has been with Brother UK's sustainability agenda. The company had stipulated that its new apprentice ("I was one of Brother UK's first apprentices in 20 years") must be recruited from its local community, evidence of another sustainability goal: to provide decent work for people in its community.
After leaving home at 16 and holding down three part-time jobs during her college career, Crozier was delighted at last to find a career opportunity.
"All the other roles I'd had were just jobs," Crozier explains. "After my interview with Brother UK, I walked away with a weird feeling. As cheesy at it sounds, I just felt I was part of the family. I wasn't grilled. They just wanted to get to know me a bit better. They wanted to know what type of personality I had and what made me tick. They already had a vision for where they wanted me to be. I thought: 'Wow. This company believes in me. It would be ridiculous to turn down this opportunity.'"
Crozier has not allowed any subsequent opportunity to pass. After completing her first apprenticeship (Business Administration, Level Three), she completed a second (Leadership and Management, Level Three). When she returns from maternity leave, she hopes to complete a third, this time with a sales focus. The working environment is equally important.
"At other places I've worked, when the managing director arrives, everyone thinks, 'Best behaviour!' and that you can't go and talk to them. I feel so comfortable knocking on Phil's door and saying: 'Do you have five minutes for a chat? I'm having a bad day.' It's that open-door policy and a non-hierarchical, family atmosphere - even with over 100 employees - that I enjoy so much. I feel I've found somewhere I can be happy and content," she says.
The best decision
Crozier is about to begin a new chapter in her life but is certain that the last chapter on her career at Brother UK has yet to be written. Motherhood is the most vital undertaking of all, but she is confident she can meet its demands while continuing her career. She has the support of life partner Daniel to call upon. A relationship begun in year nine of high school has already stood the test of time and is, perhaps, a further example of her commitment to sustainability.
Her decision, five years ago, to attend an apprenticeship seminar at her college has proved fortuitous, to say the least ("It was the best decision I ever made"). Crozier has already experienced work in several departments at Brother's headquarters, and despite her success with community engagement, sustainability and apprenticeships, feels as if she is just getting started.
"When I completed my first apprenticeship, I knew that I didn't want to stop there. I had an appraisal recently, the last before I start maternity leave, and they said: 'Your priorities might change. Just see where you are in ten months.' I replied: 'I'm back. I'm on it. Let's continue.' I feel like I'm still at the start of my career, and there's so much more that I want to achieve."
Delivering Brother UK's sustainability programme must be a rewarding task by itself, even before encouraging its partners to embrace the same principles. Tackling significant issues like poverty, inequality and environmental damage on land and in water with considered policies, positive choices and hands-on initiatives might serve almost as a dictionary definition of job satisfaction.
Enthusiasm, passion and genuine belief in the principles embodied in 17 different sustainable development goals are required to deliver them effectively, but these are qualities Crozier holds in abundance. A new way of working – ethical, transformative, and, above all, sustainable - requires a powerful advocate. In Crozier, Brother UK has an employee whose pursuit of a sustainable career embodies its principles.
---
To find out more about how Brother solutions and services can support your business sustainability plans, visit our business sustainability page.